Posted on
By Delia Curtis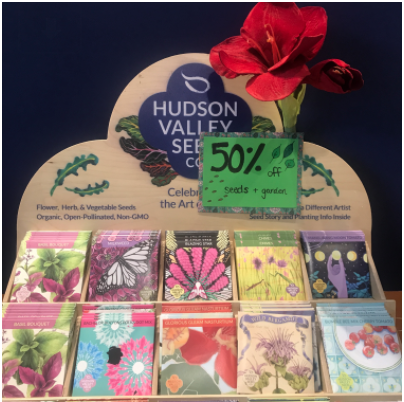 When the weather gets warmer, good things happen...like sales.
A Mid Summer's Day Sale.

When the weather gets warmer, good things happen like trips to the park or beach, frozen cocktails, outdoor dining, new hobbies, and sales. Lots of them. This season we've got tons of amazing merchandise on sale in-store and online ranging from 25-50% off!
Good news: we offer deep discounts on many items. Bad news: they tend to sell out fast. So definitely stop in before it's all gone.
This sale is available in store, with select items featured online.
Sad that you missed planting season? Us too. The hydroponic grow kits from Modern Sprout allow you to garden indoors, on the window sill, or even on your fire escape. Whether you're in Manhattan or Brooklyn, there's an herb or flower for every green thumb. Choose from mint, zinnia, chamomile, pansy, basil, or cilantro as stock is available.

Our seeds from Hudson Valley Seed Company are local from upstate New York and are half off. With dozens of options to choose from, you'll have a lush garden full of herbs, flowers, fruits, and veg up and running in no time. And the best part--they support independent artists by featuring their artwork on the seed packaging. (Some of our favorites: Watermelon Radish, Milkweed, Rembrandt Snapdragons, and the Edible Flower Mix)
We also have the Paddywax Urban collection, full of scents like deep tobacco and patchouli, earthy eucalyptus and santal, sensual bergamot and mahogany, fresh sea salt and sage, along with other beautiful, robust scents in their signature concrete packaging at 25% off. Made of entirely cleaning-burning soy wax and 100% cotton wick, you can feel good about the scents you're burning.

Select Cast of Stones Wrap Necklace/Bracelet combos, featuring a leather wrap and chunky stone and Kuku Necklaces from Suck UK in silver and gold tones are on sale for 25% off. Soft summery scarves, canvas toiletry bags from Printed Village, glasses cases, and Kiko leather wallets are all on sale for the same 25% discount, making them perfect for last minute gifts.


 
If you're looking for something for the babes, check out the Bella Tunno Spoon Sets, Wonder Plates, and Suction Bowls. They're perfect even for the messiest of eaters and even easier to clean. You'll be able to choose from tons of cute cheeky sayings, like "Snack So Hard," "Give Peas a Chance," "Fries Before Guys," and more. 

Stop by the store to see the full selection of sale products. You don't wanna miss it because some of this stuff won't be coming back and we have limited supply. Plus, we're starting up a new promo program...so keep your eyes peeled for weekly updates. Details to follow. We promise it'll be worth it. ;) 

And as always, we're sending you all the quarantine love!
Until then,
Your Pals at Exit9